Turkey, Migration and the EU: Potentials, Challenges and Opportunities
Turkey, Migration and the EU: Potentials, Challenges and Opportunities
Schlagworte
Turkey, EU, Germany, Migration, Immigration
Über dieses Buch
In the context of Turkey's accession to the EU, the issue of potential migration from Turkey and its impact upon European labor markets became one of the concerns of the EU, considering Turkey's growing population and young labor force. In 2011, half a century after the bi-lateral agreement between Turkey and Germany on labor recruitment in 1961, migration plays a key role in relations of Turkey with the EU and will even increase its significance – not necessarily for the next fifty years but certainly for the next decade. This book touches upon various aspects of the ongoing debate about the effects of Turkey's accession to the EU upon the migration flows and sheds light on various dimensions of current panorama, addresses policy implications as well as future challenges and opportunities.
Kapitel
List of Figures / List of Tables / Acknowledgement

Introduction

Seçil Paçacı Elitok , Thomas Straubhaar

Demography and Migration in Transition: Reflections on EU-Turkey Relations

Ahmet İçduygu , Ayşem Biriz Karaçay

Turkey's "Critical Europeanization": Evidence from Turkey's Immigration Policies

Juliette Tolay

Turkey's New Draft Law on Asylum: What to Make of It?

Kemal Kirişçi

Is Migration Feminized?

A Gender- and Ethnicity-Based Review of the Literature on Irregular Migration to Turkey

Juliette Tolay , Çağla Ünlütürk Ulutaş

Turkey in the New Migration Era: Migrants between Regularity and Irregularity

Sema Erder , Selmin Kaşka

Causes and Consequences of the Downturn in Financial Remittances to Turkey: A Descriptive Approach

Giulia Bettin , Seçil Paçacı Elitok , Thomas Straubhaar

Bordering the EU: Istanbul as a Hotspot for Transnational Migration

Barbara Pusch

Emigration of Highly Qualified Turks

A Critical Review of the Societal Discourses and Social Scientific Research

Yaşar Aydin

Continuity and Change: Immigration Policies in Germany from the Sixties to the Present

Mehmet Okyayuz

Conclusion

Seçil Paçacı Elitok , Thomas Straubhaar

List of Abbreviations

International Workshop on Migration Potentials from and to Turkey

Contributors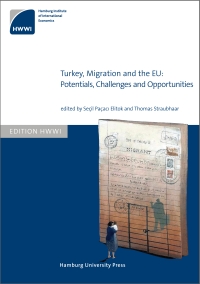 Downloads
Gedruckte Ausgabe
ISBN: 978-3-937816-94-4

284 Seiten, 16 Abb., Hardcover,
Maße: 155 x 220 mm, 29,80 €
Lizenz
This work is licensed under a Creative Commons Attribution-NonCommercial-NoDerivatives 2.0 Unported License.
Copyright (c) 2012 Autorinnen und Autoren
Zitationsvorschlag
Straubhaar, T., … Paçacı Elitok, S. (Hrsg.). (2012). Turkey, Migration and the EU: Potentials, Challenges and Opportunities: Bd. Band 05. Hamburg University Press. https://doi.org/10.15460/HUP.HWWI.5.118