Climate Change, Security Risks, and Violent Conflicts
Essays from Integrated Climate Research in Hamburg
Climate Change, Security Risks, and Violent Conflicts
Essays from Integrated Climate Research in Hamburg
Schlagworte
Klimawandel, Konflikte, Gewalt, Sicherheit, Schutz, Diskursanalyse
Über dieses Buch
Research on security-related aspects of climate change is an important element of climate change impact assessments. Hamburg has become a globally recognized center of pertinent analysis of the climate-conflict-nexus. The essays in this collection present a sample of the research conducted from 2009 to 2018 within an interdisciplinary cooperation of experts from Universität Hamburg and other institutions in Hamburg related to the research group "Climate Change and Security" (CLISEC). This collection of critical assessments covers a broad understanding of security, ranging from the question of climate change as a cause of violent conflict to conditions of human security in the Anthropocene. The in-depth analyses utilize a wide array of methodological approaches, from agent-based modeling to discourse analysis.
Kapitel
Climate change and weather extremes as risk multipliers

Tipping points, cascading events, and societal instability

Jürgen Scheffran

Agrofuel expansion and black resistance in Brazil

Energy landscapes as materialized unequal power relations

Martina Neuburger , Rafaela Rau , Tobias Schmitt

Interaction between wind energy, climate vulnerability, and violent conflict in Northern Kenya

Janpeter Schilling , Luise Werland

The roadmap to energy security in Egypt

Mostafa Shaaban

Water allocation in transboundary river systems in times of climate change

P. Michael Link

Managing water-related vulnerability and resilience of urban communities in the Pearl River Delta

Liang Emlyn Yang

Challenges and opportunities for historical irrigated agricultural systems in Mediterranean regions

Technical, cultural, and environmental assets for sustainable rural development in Ricote (Murcia, Spain)

Jürgen Scheffran , Francisco Alcón , Andrea L. Balbo , Juan Esteban Palenzuela Cruz , Rodrigo García Abenza , José María García Avilés , Katharina Heider , Johannes Hunink , Juan Miguel Rodriguez Lopez , Julia Martinez-Fernández , Arnald Puy

Sustainable access to rural and urban land by integrating local perspectives

The potential of using Information and Communication Technologies

Jürgen Scheffran , Andrea L. Balbo , Katharina Heider , Juan Miguel Rodriguez Lopez

Drought, flight, conflict: "climate migration" as a driver for conflict?

Christiane Fröhlich

Disrupting the knowledge-power politics of human mobility in the context of climate change

Questioning established categories

Sarah Louise Nash

Explaining the diversity of resilience in the climate change and security discourse

Resilience in translation

Delf Rothe

How does path dependence affect the climate change-conflict nexus?

Jasmin S. A. Link

Critical evaluation of the implementation of the concept of environmental security

Case study of the Environment and Security Initiative (ENVSEC)

Judith Nora Hardt

The Anthropocene: an opportunity for transdisciplinary and inclusive science?

Jürgen Scheffran , Andrea L. Balbo , Delf Rothe

About the authors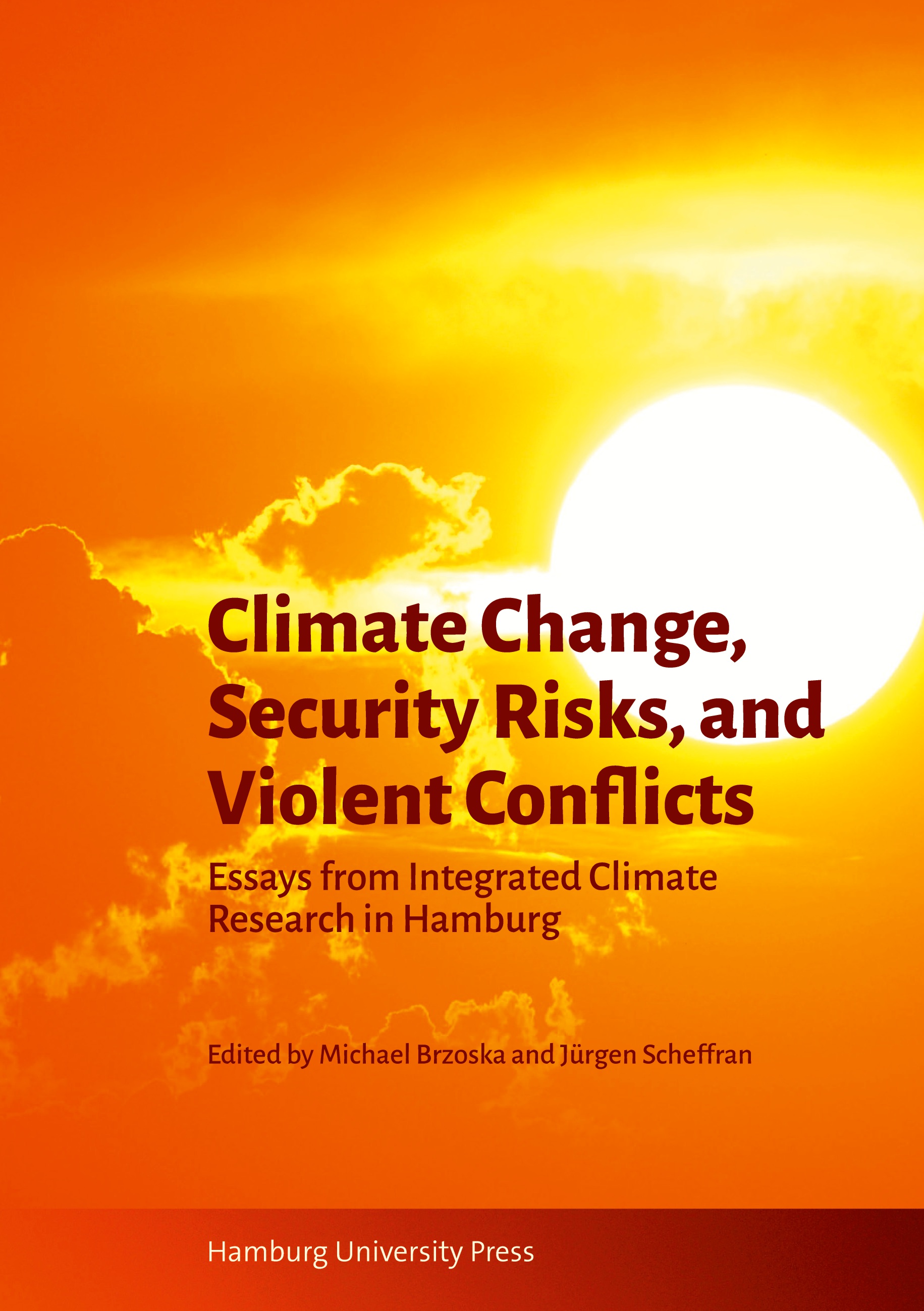 Downloads
Gedruckte Ausgabe
ISBN: 978-3-943423-81-5

IX, 299 Seiten, 35 Abb. davon 24 farb. Abb., Softcover,
Maße: 155 x 220 mm, 28,80 €
Kategorien
Lizenz
Dieses Werk steht unter der
Lizenz Creative Commons Namensnennung 4.0 International
.
Copyright (c) 2020 Autorinnen und Autoren
Zitationsvorschlag
Brzoska, M., … Scheffran, J. (Hrsg.). (2020). Climate Change, Security Risks, and Violent Conflicts: Essays from Integrated Climate Research in Hamburg. Hamburg University Press. https://doi.org/10.15460/HUP.208